It's probably worth repeating something I said earlier this year in another
YA review
: I don't typically indulge in reading to completion. So when I actually do finish a trilogy, you can bet that the author impressed me enough that I felt it worth my time to see it through to the end.
There was no way I was going to let
Sisters' Fate
, the third and final book in the
Cahill Witch Chronicles
trilogy by Jessica Spotswood, slip by me. That twist at the end of the second book! Oh, my word! I actually squawked when I read what happened, and wanted to throw something at the perpetrating character. So, I just had to know how things resolved in this book.
Not to mention, does the prophecy that one of the three sisters kills another come true? Or can fate be changed?
(For my review of the first book,
Born Wicked
, click
here
.)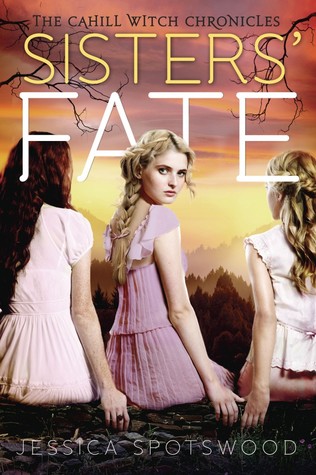 Statistics
Checkouts: The book is new to the school library; the series surprisingly hasn't been checked out at all. I need to talk it up more, apparently.
Typical reader: Teen girls looking for paranormal romance
Source: Snowbound Books
Synopsis: As a fever ravages the city of New London, Cate must deal with what happened at the end of
Star Cursed
, the prophecy and what it could mean, her little sister Tess's own prophecies, her middle sister Maura's conniving ways, and regaining Finn's trust.
My
Goodreads
rating: 5 stars
First, I must comment on the cover art. It's an improvement over the first book's hardcover printing, where Cate (presumably) looks all come-hither and wonton. The paperback edition of the first book, and the printings of the subsequent books, fit the stories much better. The three girls on this cover look like they could be Maura, Cate, and Tess.
On to the book itself. It was everything I wanted, and more. The end of the trilogy answered questions, left a few tasty dangling threads, and overall satisfied me. There's also a tremendous climax - multi-tiered, even - that is action-packed and far-reaching.
What I loved most about this book is that while there's romance, it surpasses what is the norm in teen literature. Cate benefits from her beau, but does not rely on him. He's a support, not a crutch. She can love, without being codependent. This is absolutely marvelous, and well-written. We need more strong females in YA fiction like her! Really, many of us could learn a bit from Cate.
I look forward to more of Ms. Spotswood's works in the future. (Also, thank you for the bookmarks.)