It's spring break, and time to play catch-up! My apologies for being an inconsistent blogger. Today's review is of
The Case of the Library Monster
, part of
The Buddy Files
series by Dori Hillestad Butler.
Statistics
Checkouts: Coming soon to the library
Typical reader: Middle-grade elementary students who like dogs
Source: Personally purchased from the Scholastic Book Fair
Synopsis: Buddy is a therapy dog at a school library. One day he hears a noise in the bookshelves and finds himself face to face with a strange monster. What is it? Where did it come from?
My
Goodreads
rating: 3 stars
This is actually book 5 in the series, but the story stands alone very well without prior knowledge of Buddy's adventures. It's episodic, and I like that quality in a kid's book, especially in a library with a tiny book budget. I don't have to track down the first four to make it worthwhile.
Buddy is the narrator of the story. On the one hand, this should really appeal to many kids. I know that I liked that sort of book when I was young and related better to animals than to people. But on the other hand, it's a really annoying voice. My sympathies to parents that read this to/with their young ones. Imagine Dug from the movie
Up
narrating an entire story. It's not pretty.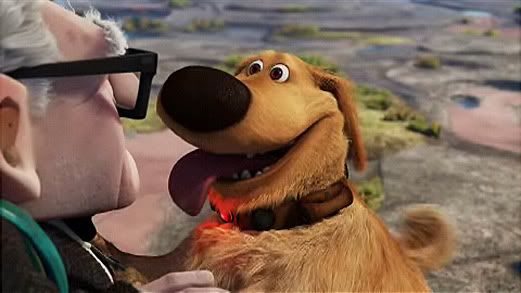 My name is Dug. I have just met you, and I love you.
Despite the narration, this is fairly realistic fiction. The humans cannot understand Buddy, and he behaves likes a dog. There's information about what the monster is from a book that a student reads to Buddy. He can't solve everything about the mystery, but through his doggy actions he can bring about some resolution to the mystery.